Punctum Books
A co-publishing effort with Punctum Books, a new open-access and print-on-demand independent publisher dedicated to radically creative modes of intellectual inquiry and writing across a whimsical para-humanities assemblage.
About Punctum Books:
punctum books encourages projects that profit from formal risks and possibly engage with supposedly outmoded or 'quaint' genres—the abcedarium, (auto)commentary, summa, bestiary, dialogue, case study, compendium, speculum/mirror, conduct manual, letter/address, apologia pro vita sua, hagiography, elegy, postcard, telegraph/telegram, inter-office memo, encyclopedia, forgery, hidden writing, source-fiction, natural history, leechbook, atlas, colloquium, colophon, commonplace book, telephone book, rolodex, field report, romance, dialogue, dream vision, catalogue, sonnet cycle, poetics, treatise, manifesto, prosody, calendar, morality play, marginalia, interlinear translation, digest, microfiche, concordance, book of hours, pastoral/eclogue, polemic, epigram, broadsheet, flyer, note-book, breviarium, collationes/collectio, book of nature, testament, proof, manual, pamphlet, miscellany, chapbook, captivity narrative, penny dreadful, testament, manual, discography, catena, liner notes, autopsy, exegesis, rule, antiphonary, legend, fax, travelogue, etymologiae, lai, excerpt, curiosity cabinet, disputation, computus, comedy of errors, soliloquy, essay, bulletin, evangeliary, gloss, meditation, fable, florilegium, myth, fairy tale, purchase order, carbon copy, transcript/transcryptum, blueprint, psalter, micrologue, lyric, daytimer, inventory, annal/chronicle, pipe roll, receipt/invoice, watch-list, charter, canon, and so on ad infinitum. Surprise yourself. http://punctumbooks.com/
---
Our first collaboration: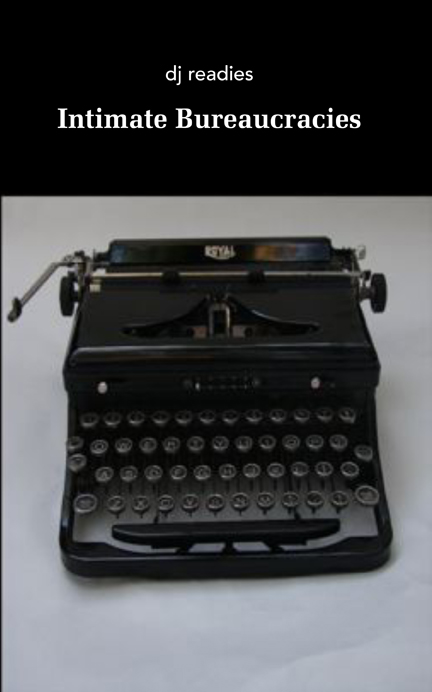 Intimate Bureaucracies: A Manifesto
by dj readies
[Craig J. Saper]
Brooklyn, NY: punctum books, 2012. 60 pages. ISBN-13: 978-0615612034. Free download + $9.00 in print.
Download a copy of Intimate Bureaucracies by dj readies
(http://rbtb.akpress.org/wp-content/uploads/2012/04/intimateb_full.pdf)
Intimate Bureaucracies is a history from the future looking backward at our present moment as a turning point. Our systems of organization and control appear unsustainable and brutal, and we are feeling around in the dark for alternatives. Using experiments in social organization in downtown New York City, and other models of potential alternative social organizations, this manifesto makes a call to action to study and build sociopoetic systems.